Children's Book Week is May 10-16.
Generations United's Seniors4Kids
recommends 10 titles for young children that spotlight connections between young children and older adults.
Abuela by Arthur Dorros

An innovative fantasy narrated by a Hispanic-American child who imagines she's rising
into the air over the park and flying away with her loving, rosy-cheeked abuela (grandmother). From the air, they see Manhattan streets, docks, an airport, tourist
attractions, and Rosalba's father's office.

Bigmama's by Donald Crews
Visiting Bigmama's house in the country, young Donald Crews finds his relat
ives full of news and the old place and its surroundings just the same as the year before
.
The Hello, Goodbye Window by Norton Juster, illustrated by Chris Raschka
The young narrator visits her grandparents, Nanna and Poppy, in their big house. They explore Nanna's garden, and Poppy plays his harmonica. Looking out the picture window, the "hello, goodbye window," she spots her parents coming to pick her up. Th
e curly-haired girl is happy to see them, but sad because it means the end of the visit.
Jingle Dancer, by Cynthia Leitich Smith, illustrated by Cornelius Van Wright and Ying-Hwa Hu
Without enough tin jingles to make her dress sing, how can Jenna be a jingle dancer just like Grandma Wolfe at the next powwow? She borrows one row from Great-aunt Sis, whose aching legs keep her from dancing; another from Mrs. Scott, who sells fry bread; one from Cousin Elizabeth, whose work keeps her away from the festivities; and a fourth row from Grandma, who helps Jenna sew the jingles to her dress, assemble her regalia, and practice her bounce-steps.
Mrs. Katz and Tush by Patricia Polacco
It is th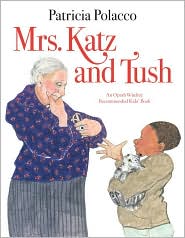 e beginning of a long friendship between Mrs. Katz, widowed, childless, and lonely, and her young African-American neighbor, Larnel, when he presents her with a scraggly kitten. On his daily visit to the elderly woman and her pet, they talk about Mrs. Katz's husband, her arrival in the United States from Poland, and the similar experiences of Jews and African-Americans.
Miss Rumphius by Barbara Cooney
As a child, Great-aunt Alice Rumphius resolved that when she grew up she would go to faraway places, live by the sea in her old age, and do something to make the world more beautiful--and she does all those things, the last being the most difficult of all.
Our Granny by Margaret Wild, illustrated by Julie Vivas
Two children compare their granny with others. Some grannies have thin legs, fat knees, crinkly eyes, or big soft laps. Their granny has a wobbly bottom and wears an old red sweater that was grandpa's. She has a style all her own—and to the children who love her, this granny is perfect.
The Raft by Jim Lamarche
Reluctuant Nicky spends a wonderful summer with Grandma who introduces him to the joy of rafting down the river near her home and watching the animals along the banks
Song and Dance Man by Stephen Gammell
In this Caldecott winner, Grandpa relives his vaudeville days for an adoring audience--his grandchildren.
Walk With Grandpa: Un Paseo con el Abuelo by Sharon Solomon

Ella and her grandfather find a peaceful walk in the woods leads to so much more. They express just how much they mean to each other by a simple word game they play together. Bilingual full text in both English and Spanish.
Synopses courtesy
Amazon
and
Barnes & Noble