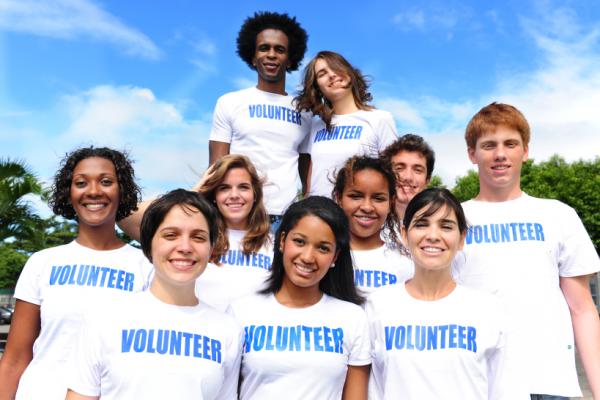 (Photo: iStockphoto.com/mangostock)
Grace Chen developed two critical skills while teaching older adults how to use new technology. Duncan McDonell had a break-through with an older student during an art class. Aaron Smothers learned an important lesson while documenting seniors.
All three -- under the age of 25 -- are not only recipients of our Youth Jumpstart Grants, but they're also among the millions of youth improving their communities every day through service.
During that time, young people around the world will engage in work with schools, youth organizations, nonprofits, community and faith-based organizations, national service programs, government agencies and adult mentors.
Established in 1988, GYSD is the largest service event in the world, with celebrations each year in more than 135 countries.
(Artwork: www.volunteerhr.org)
The Washington, D.C., celebration kicks off today with the 25th Annual National Service-Learning Conference, co-hosted by the National Youth Leadership Council and Youth Service America (YSA).
In honoring this annual event, we're highlighting a few young who addressed critical issues and changed their communities.
As part of the C & T Youth Technology Academy in Rockville, Maryland, Grace Chen was part of a project where she and her peers tutored older adults on how to surf the web, check e-mail, and operate cellphones, digital cameras and tablets.
She developed two important skills: the first being patience. "As a high school student who is constantly balancing school work and extra-curricular activities, I never need to slow down or wait," Chen explained.
Life at the Ring House senior living facility, however, moved at a pace slower than what she was initially used to until she caught on.
"When I began conversing with the residents, I found myself wanting to slow down, becoming more patient," noted Chen, whose group also assisted the residents with memoir writing. "It was…[a] skill that I realized could be applied to my life outside of the Ring House."
"When teaching some of the residents new technologies, it was easy to become frustrated," Chen explained, recalling a day when the older adults struggled to click the left mouse button.
When the residents grew anxious about their inabilities, the young tutor changed the direction of the conversation.
"At that point," Chen noted, "we began to talk them through the steps, taking their mind off the difficulties."
"I once taught a man named LiBorio who seemed to be very unresponsive while being taught," McDonell recalled. "He didn't want to paint, and he hardly spoke in class."
But overtime, LiBorio came around and eventually painted a breathtaking nature scene and called McDonell's name, which surprised everyone.
"What happened next was even better," the art teacher explained. "LiBorio shook my hand and thanked me humbly and, after this kind gesture, he said, 'I hope I see you soon, Duncan.'"
That experience showed McDonell first-hand the benefits of young and old working together.
Duncan's programming
"I realized what a powerful tool art can be and how it can be a wonderful aid for communication," McDonell recalled. "I also found that one should never judge anyone, especially a senior, by first impressions."
In that project, based in St. Paul, Minnesota, Smothers and his peers explored the history of Roosevelt Community Homes, a 314-unit public housing community that built in 1952, through discussions with seniors and a video project that took 2nd place at a community film festival.
Young and old "taking the time to work together and learn from each other," Smothers recalled, "was amazing to watch."
Part of the program's requirements included Smothers and his peers taking a seven-week media course over the summer to learn videography.
The experience taught him something else.


"I learned that a big part of helping [to] close the digital divide as well as the cultural divide," Smothers explained, "lies in both sides of the age spectrum."