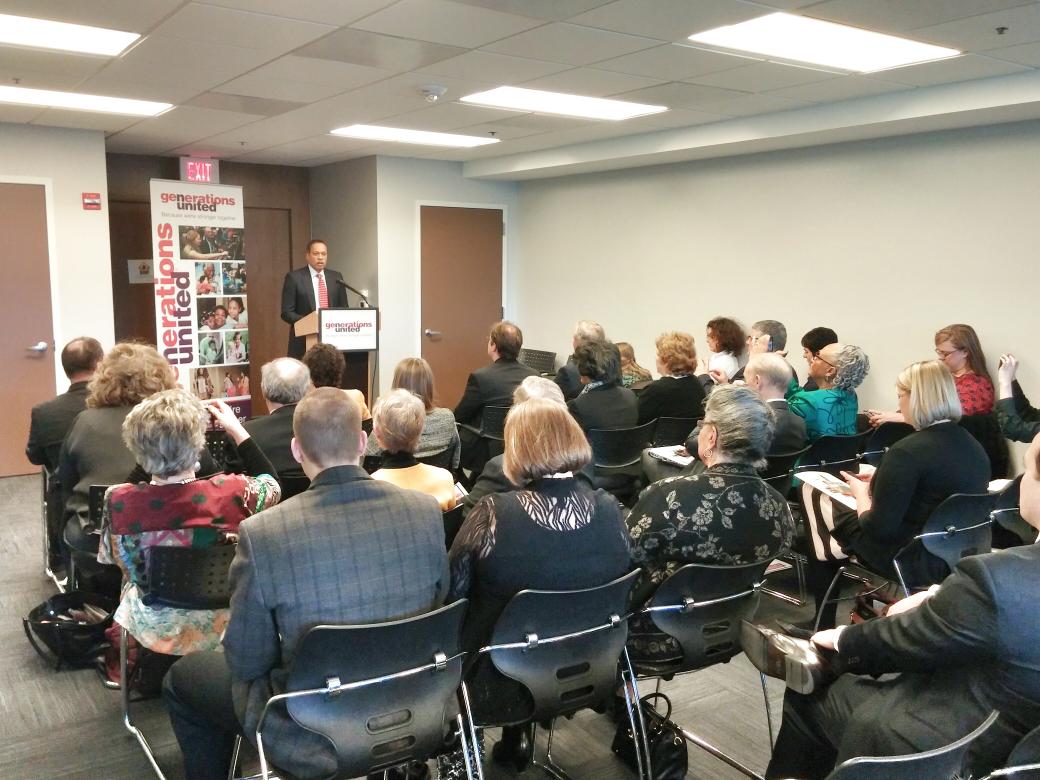 (Click here to view enlarged image.) Author and journalist
Juan Williams offers welcoming remarks.
Yesterday, we presented three communities with the 2015 MetLife Foundation/Generations United
Best Intergenerational Communities
Award.
These communities – including
Carlisle, MA
;
Greater Richmond Region, VA
; and
Greater Plymouth Area, WI
– promote policies, programs, practices and services that increase cooperation, interaction and exchange between people of different generations.
"They are among the most vibrant, livable communities you will find anywhere in the nation," Donna Butts, executive director of Generations United, told a packed room at the Hall of States.
Today, 8.4 million Americans live in such communities. This year's honorees, combined, have a total of 1.2 million residents, which contributes to the total number of people living in age-friendly communities.
Butts praised the honorees' persistence in becoming age-optimized.
"As the communities we are recognizing today know," she said, "it takes time, investments, commitment and leadership to bring younger and older people together in a true partnership that engages and respects the strengths of each generation."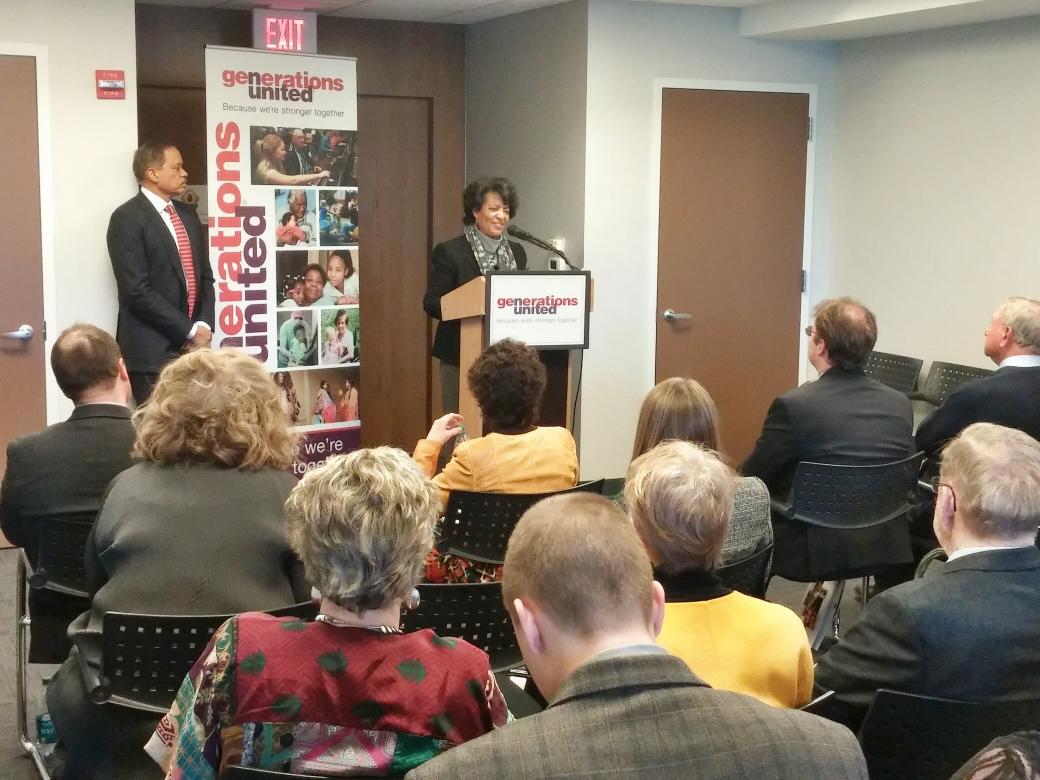 (Click here to view enlarged image.) Thelma Collins, mayor of Itta Bena, MS
(a 2013 winner) sharing how the award impacted her community.
That time, investment and commitment paid off for our past winners like Itta Bena, MS (2013 winner).
"The award helped our community see we are moving in the right direction towards a healthier community for all ages," said Thelma Collins, mayor of Itta Bena, MS. As a result of the award, she added, "We were recognized by the Obama administration and received one of 26 technical assistance grants to help us get a grocery store."
Dennis White, CEO and president of MetLife Foundation, shared highlights from Maricopa County, AZ, and San Diego County, CA.
For Maricopa County, the award validated their work and helped raised morale among its residents.
San Diego County reported that the award got them the attention of their County Board of Supervisors who decided to start embracing intergenerational programming by voting to add four new intergenerational coordinators through their county.
MetLife Foundation's CEO and President Dennis White
"We know the award has impacted the communities we've honored," White said.
"We applaud today's recipients of the Intergenerational Best Communities Award for unleashing the power of intergenerational connections that encourage people of all ages to thrive and work together to make their communities better places to grow up and grow old."

The awards presentation took place on Capitol Hill and featured author and journalist Juan Williams and our Board member Jatrice Martel Gaither, executive vice president of External Affairs for Volunteers of America.

During her remarks, 11-year-old Margot, of Carlisle, shared a touching story about helping older adults in her community.
Drew Schweiger, 18, and his older adult buddy, Larry Bray, of Greater Plymouth Area, talked about the benefits of living in an age-friendly community.
Doris Hairston, of Greater Richmond Region, shares a story about helping
a challenged youth overcome various obstacles through problem-solving.
As a mentor in the Greater Richmond Region's Foster Grandparent Program, Doris Hairston sees first-hand the benefits of generations mixing it up.
She recounted a story about helping a challenged youth overcame various obstacles through problem-solving.
Hairston is fulfilled knowing she helps children like Charles.
"Together," she said, "the other volunteers and the children we work with are making positive differences in each other's' lives."
Congratulations, again, to our winners. You can
see other highlights here
.
If you're interested in more info about intergenerational communities,
click here
and share our resources with your networks.