HoustoniaMag.com
by Carolyn Walsh
To say that Simone Biles is an excellent gymnast would be an understatement. At 19, she is already touted as being the greatest gymnast in history, and she certainly has the resume to support it.
Her career accomplishments include being the first female gymnast in history to win three consecutive world title championships and holding the record for the most world championship gold medals won by a female athlete.
At the Rio Olympics, Simone will have the chance to establish her world greatness as she leads the U.S. Women's team to hopeful victory. In the midst of growing attention and pressure, the two people most important people in Simone's life – her grandparents, Ron and Nellie Biles – are there for her to lean on.

In fact, they raised Simone, who's been calling them "mom" and "dad" for most of her life. When her biological mother started using hard drugs and alcohol, Ron and Nellie intervened, traveling from their home in Houston, Texas, to Columbus, Ohio, to get their grandchildren out of foster care.
When an attempt to reunite their grandchildren with their birth mother failed, Ron and Nellie decided to officially adopt then 5-year-old Simone and her 3-year-old sister, Adria. Simone's two older siblings were adopted by Ron's relative.
Mr. Firefox Gym
Ron, a retired air traffic controller, and Nellie, a former nurse who now co-owns a chain of nursing homes in Texas, sent their two sons off to college, anticipating an empty nest.
Nowhere did their plans include becoming parents all over again. But they adjusted. Nellie said her "heart just made room" to love her new daughters just as much as her own sons.

As Simone's grandparents strove to provide a loving, stable and structured home for their granddaughters, they created the perfect environment for the young women to blossom and work towards their goals.
When Simone was 6, Ron and Nellie enrolled her in a day care class that exposed her to gymnastics. It was there she caught the eye of her current head coach, Aimee Boorman.

It was Ron and Nellie's support that allowed Simon to pursue her passion for gymnastics. Simone had to make a choice between staying in public school and being homeschooled in order to train full time as a gymnast.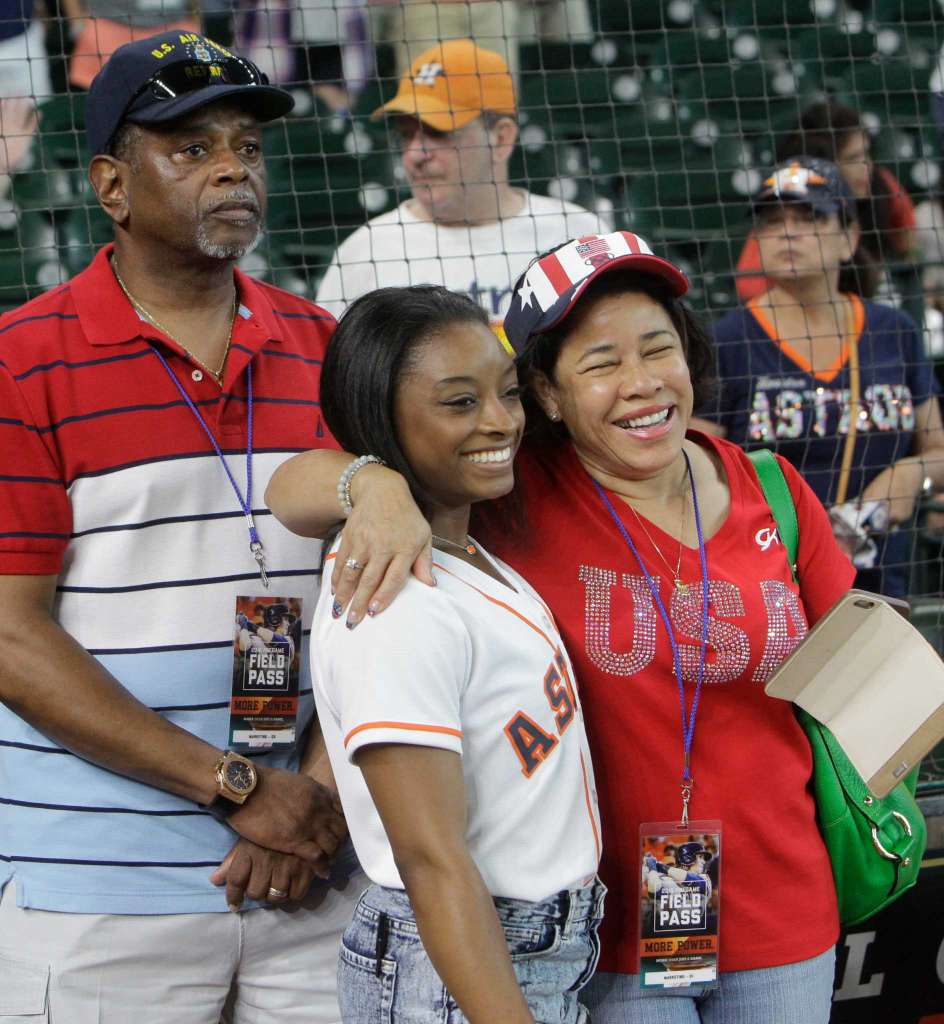 Chron.com
Ron and Nellie didn't make the decision for her. When Simone decided the latter, her grandparents built a brand new gym for her to train at in Spring, Texas.
Although Simone didn't get her athletic gifts from her grandparents, what they gave her was just as special. The values they instilled in Simone – determination, humility and an appreciation of the small, good things in life – helped carry Simone this far.