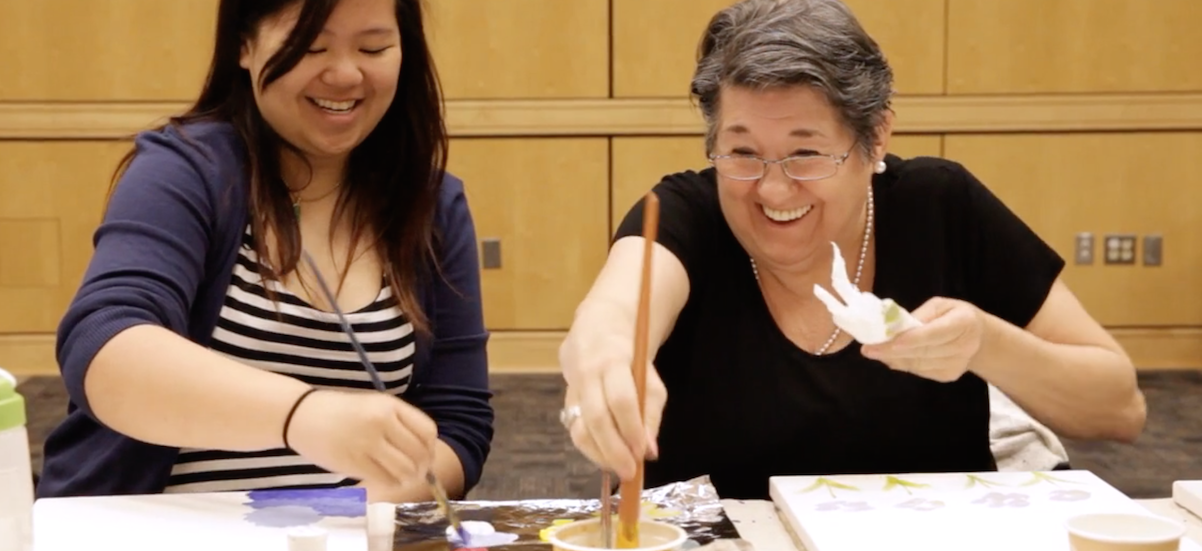 PHOTO: Courtesy
EDITOR'S NOTE: Each week, we'll feature intergenerational program ideas that were tried and successful. This new series is a tool to highlight various age-optimized programs and practices. The program descriptions are provided by representatives of the programs. Inclusion in this series does not imply Generations United's endorsement or recommendation, but rather encourages ideas to inspire other programs.
PALETTE was launched in Richmond, VA in January 2014.
Through this intergenerational art program, active older adults are paired with interdisciplinary undergraduate and graduate students to participate in creative arts activities.
The purpose of PALETTE is to foster intergenerational relationships, thereby challenging stereotypes and ageist attitudes towards older adults.

Over the course of 14 weeks, PALETTE engages students and older adults in creative arts activities including visual arts classes and cultural outings. Participants of PALETTE experience the program in pairs: older adult/student Partners in Arts Learning (PALs) spend the entirety of the program working and engaging together.

Additionally, student participants of PALETTE attend two seminars: a training seminar at the start of the program to discuss aging and aging-related topics, and a reflection seminar at the end of the program to discuss insights and responses to their experience in PALETTE.

These program activities help to break down generational barriers and to challenge the way we view aging.
Got something cool you tried that was successful? Why not tweet them to #cooligideas, post them to our Facebook Group, Intergenerational Connections? If you're a Youth Jumpstart Grantee, share your ideas here or text us through Facebook's Messenger app by friending me to join our Cool Intergenerational Ideas group discussion. We want to highlight innovative age-optimized programs and practices through our blog, social media and weekly e-newsletter! Share the inspiration.